http://www.batonrougehomeappraisal.com/ – Greater Baton Rouge Housing Statistics! Baker Louisiana Real Estate Housing Statistics For 2010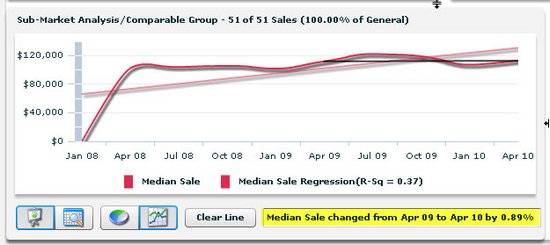 The above charting is an analysis of GBRAR MLS Solds since 4/17/2008+ within MLS Area 11, Zip Code 70714, extracted on 4/26/2010. DSF Home search parameters were:
$75,000 to $150,000
1300sf to 1600sf, 3-4 Bedrooms
Ages 16-20 Yrs to 76+ Yrs
REO/Foreclosures are included.
The overall median sales price since 4/2009 has remained stable showing a +0.89% increase.